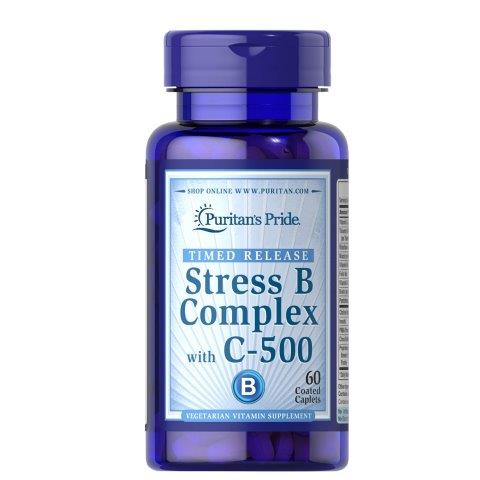 Puritans Pride Stress Vitamin B Complex with Vitamin C 500 Timed Release - 60 Caplets
AED 55.00 – AED 33.00
VAT: AED 0 40% OFF
About this item.
Helps BOOST ENERGY and cope with stress.
Helps MAINTAIN proper body function and nerve impulses.
Helps STRENGTHEN immune system.
Combination of Vitamin B complex plus Vitamin C.
✅100% SATISFACTION GUARANTEE! If you are not completely satisfied we will refund your purchase! No questions, no hassle..
Timed-Release Stress Vitamin B Complex with Vitamin C 500
provides an excellent source of B Complex vitamins to help
safeguard a sufficient daily intake. The B Vitamins, which are
essential for the maintenance of healthy nervous tissue, each
play a role in energy metabolism in the body. Choline and
Inositol are essential components of cell walls and play
important roles in cell growth and function. The 500 mg of
Vitamin C is added to help support immune function. As an
antioxidant, Vitamin C also helps to neutralize harmful free
radicals in cells. Adults can take one timed-release caplet
daily. ** These statements have not been evaluated by the Food
and Drug Administration. These products are not intended to
diagnose, treat, cure or prevent any disease. DIRECTIONS: For
adults, take one (1) caplet daily, preferably with a meal.
WARNING: If you are pregnant, nursing, taking any medications or
have any medical condition, consult your doctor before use. Avoid
this product if you are allergic to yeast. Discontinue use and
consult your doctor if any adverse reactions occur. Keep out of
reach of children. Store at room temperature. Do not use if seal
under cap is broken or missing.