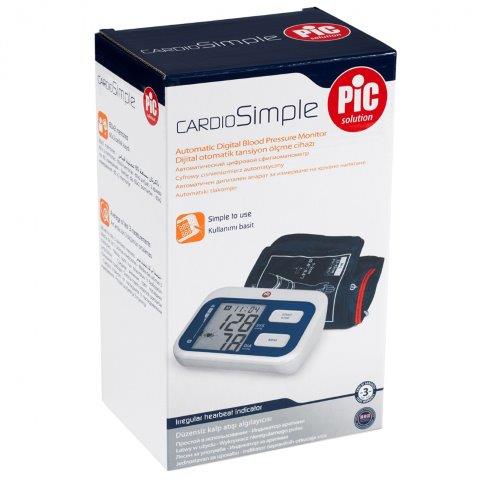 PIC BPM CARDIO SIMPLE ARM - 1 PC
AED 140.00 – AED 98.00
VAT: AED 0 30% OFF
escription PiC CardioSimple fully automatic arm
The PiC Solution product line is manufactured to the highest quality standards by Artsana SpA, the market leader in Italy.
Among the brands produced by Artsana SpA, we mention: Chicco, Boppy, Prenatal, Lycia, Control.
The wide range of products includes: nebulizers, thermometers, tensiometers, hot / cold;
PiC Solution CardioMaxi is a clinically validated device - special accuracy and repeatability, proven by independent testing by specialist institutes and accredited physicians.
This device uses the oscillometric method to measure blood pressure.
The measurement is already performed during the inflation phase of the cuff. The CardioMaxi Tensiometer of the PiC solution has been clinically validated according to the European Society of Hypertension (ESH) protocol as a guarantee of accuracy and accuracy.
For accurate home BP measurements, the exclusive use of medically approved voltage meters is essential.
By "clinical validation" we mean a standardized process that aims to certify the accuracy and reliability of blood pressure measuring devices.
Regular use of the blood pressure monitor will allow you to continually monitor your blood pressure, but this monitoring should not replace regular visits to your doctor.
The blood pressure measurements determined with this device are equivalent to those obtained by a specialized medical establishment using the method of listening / stethoscopic cuff within the limits prescribed by the International Protocol (Validation of ESH).
Description of CARDIO SINGLE automatic electric sphygmomanometer
Automatic blood pressure monitor for frequent monitoring by fast and comfortable blood pressure measurements;
Display: 44x60mm LCD screen;
Fast and accurate display: measure in compression phase;
Count the irregular heartbeat;
60 x 2 memories;
ML (22-42 cm) extended sleeve length;
Average of the last 3 measurements
Date and time of measurements
WHO scale - blood pressure index;
Duracell batteries.
Automatic blood pressure for the treatment of hypertension, which usually measure pressure often and everywhere.