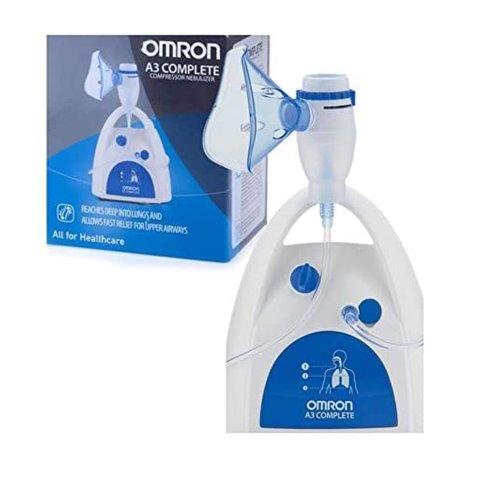 Omron A3 Complete Compressor Nebulizer Respiratory Medication Asthma Inhaler Kit - 1
AED 310.00 – AED 217.00
VAT: AED 0 30% OFF
OMRON A3 Complete Unique 3-in-1 adjustable Nebulizer provides the complete nebulization solution for a wide variety of respiratory conditions.
Complete airway treatment: for treatment of upper, middle and lower airways.
Clinically proven efficiency for upper and lower airways treatment: significant improvement on nasal inspiratory flow and lung function paramaters.
Reaches deep into the lungs and allows for fast relief of upper airways.
Efficient nebulization of main classes of drugs, either pure or as mixtures.
Fast treatment in less than 5 minutes
Based on initial fill volume of 5.5 ml isotonic saline solution in position one.
Read all the information in the instruction manual and any other literature included in the box before using the device.
The product description information listed above is indicative only and sourced from the product manufacturer and/or supplier. It may be possible that the product information is incomplete or inaccurate in certain respects. It is therefore recommended that you use the product description information as a guide, but that you verify the more detailed information in relation to the product upon physical receipt. This would include information on matters such as proper application, potential side-effects, ingredients and any application/usage guidelines or warnings. In the event you have any queries or concerns in relation to the product please contact one of our pharmacists in store or call 800BINSINA for more advice