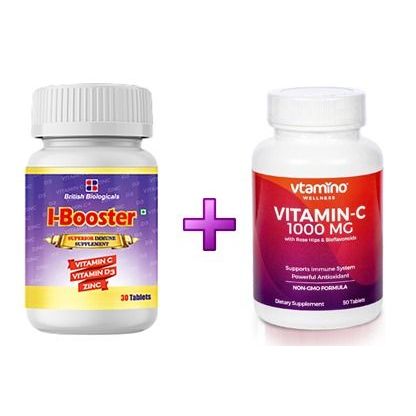 I BOOSTER 30 TABS & VTAMINO VITAMIN C 50 S - 1 + 1 OFFER
AED 109.00 – AED 60.00
VAT: AED 3.00 44.95% OFF
I-Booster Superior Immunity boosting Nutritional Supplement which play a Synergistic Role significantly to build Robust Immune system & provides every day Protection against day-to-day infections to stay healthy. It comprises Fabulous 4 vital immunomodulatory Nutrients like Vitamin C, Vitamin D3 Vitamin E & Zinc in one tablet a day for ROBUST IMMUNE SYSTEM.
Dosage: One tablet a day
Ingredients:
I-Booster comprises Fabulous 4 vital immunomodulatory Nutrients like Vitamin C, Vitamin D3 Vitamin E & Zinc.
Vitamin C 1000mg with Rose Hips, Bioflavonoids, Rutin, Hesperidin, Acerola & Quercetin
Maintains healthy bones, teeth and gums.
Enhances immune system function.
Combats inflammation and pain.
Protect fat-soluble Vitamins A and E and fatty acids from oxidation.
Aids in fighting off pathogens and free radicals.
Vitamin C is a water-soluble nutrient well known for its vital role in the immune system. Vitamin C is also necessary for the production of collagen (a structural protein in connective tissue) and is therefore important for skin, bone, and joint health. Vitamin C is needed for amino acid metabolism, neurotransmitter synthesis, and the activation of many nutrients, such as folic acid and iron.
Vitamin C is also a highly effective antioxidant that can protect the body's cells and molecules from damage by free radical and reactive oxygen molecules generated during normal metabolism and exposure to environmental stressors. This product was specially formulated to provide a sustained release of Vitamin C and includes Rose Hips as an added source of Vitamin C.
Recommended Dosage
As a dietary supplement, take one (1) tablet 1 to 2 times daily preferably with meal and an 8oz. glass of water or as directed by your healthcare professional.
CAUTION: Do not exceed recommended dose. Pregnant or nursing mothers, children under the age of 18, and individuals with a known medical condition should consult a physician before using this or any dietary supplement.
Availability: 24 In Stock
I-Booster Superior Immunity Supplement-30 Tablets
Maintains Immune Health
Stimulates antioxidant activity
Promotes Immune Cell Function
Helps Fight Free Radicals
Respiratory System Support
Helps Facilitate Longevity
Vtamino Vitamin C 1000mg-with Rose Hips For Maximum Protection (50 Days Supply)
Maintains healthy bones, teeth and gums.
Enhances immune system function.
Combat inflammation and pain.
Protect fat-soluble Vitamins A and E and fatty acids from oxidation.
Has anti-oxidant properties.
Aids in fighting off pathogens and free radicals.
Vtamino Vitamin C 1000 is Free Of: Gluten, wheat, dairy, soy, yeast, sugar, sodium, artificial flavor, sweetener, preservatives and color.
Non-GMO
A Dietary Supplemen